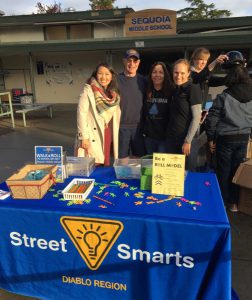 Lots of students participated in today's Walk and Roll to School Day at Sequoia Middle School. Although it rained all night in Pleasant Hill, the skies cleared just in time for the students' human-powered commute to campus. It's a good reminder that rain shouldn't discourage you from walking or rolling to school!
Not only did lots of students arrive by foot, bike and scooter, we also had great event partners helping us with the event. Pleasant Hill Mayor Michael Harris walked to campus, chatted with students and even took the blender bike for a spin. Lisa Chow, from District IV Supervisor Karen Mitchoff's office, helped pass out prizes and raffle tickets, while CHP Officer Brandon Correia attended in support of safe biking and walking activities.
We were thrilled to present Sequoia Middle School Vice Principal Lisa Keck a matching $250 donation for being a winner in last spring's Safe Routes to School National Partnership's 'Fire Up Your Feet Challenge'. Way to go, Giants!
Street Smarts Diablo offers bicycle and pedestrian safety and encouragement programs at no cost to public schools in Central and East Contra Costa County. If you want us to lead an assembly at your school or help you put on a Walk & Roll to School Day, contact our Program Coordinator.